Check out our specials this month! Click here
Medical Massage

Medical massage is an outcome-based treatment. It is the application
of specific treatment protocols targeted to specific problems. Patients will receive diagnosis and a prescription for specialized massage during the chiropractic care with Dr. Leyder. In conjunction with your adjustments, care will be administered with a thorough evaluation by the medical massage therapists with specific outcomes being the basis for treatment. This combined care has lasting benefits and research has proven it lowers the cost of overall healthcare. Many insurance companies now offer this massage with a physician's referral.
---
Deep Tissue Massage

A deep tissue massage is designed to relieve severe tension in the muscle and the connective tissue or fascia. This type of massage focuses on the muscles located below the surface of the top muscles. Deep tissue massage is often recommended for individual who experience consistent pain, are involved in heavy physical activity, or patients who have sustained physical injury. This type of massage allows patients to request focused attention on areas of specific pain. Athletes and people with physically demanding careers find that this type of massage allows them to decrease inflammation, increase range of motion, and improve flexibility in the areas they overwork.
---
Prenatal Massage
Studies indicate that massage therapy performed during pregnancy can reduce anxiety, decrease symptoms of depression, relieve muscle aches and joint pains, and improve labor outcomes for newborn health. This massage allows the expectant mother to lie comfortably while receiving focused care for muscle aches and pains unique to pregnancy.
---
Hot or Cold Stone Massage
Hot stone massage utilizes volcanic stones heated in a warm bath. Our massage therapist works the muscles using these stones. The heat warms and relaxes the muscles, which allows the therapist to apply deeper pressure, if desired. The warmth from the stones improves circulation and helps calm the nervous system. This technique combines the benefits of deep tissue and relaxation massage and heat therapy. This massage requires more preparation by our massage therapist, and requires more time to complete full body work. This massage requires a minimum of 60 minutes to perform, but 90 minutes is more in depth and recommended for maximum benefit.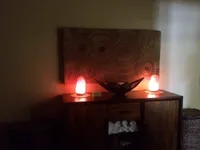 Cold stone massage is targeted to help reduce swelling and inflammation. The cooling effect is very comfortable and patients do not get too cold with this application. The massage tables are heated, which is a very nice complement to the cold stone therapy. Both hot and cold stone massage are temperature specific to the patient's comfort and should both be very comfortable and relaxing when performed.
---
Hot or Cold Stone Placement
Hot stone placement uses volcanic stones heated in a warm bath. The stones are then placed on pain specific muscles. This service is excellent for patients who have very stiff, hard to work muscles. Hot stone placement is an added service available for those being treated for either a 60 minute medical massage or a 60 minute deep tissue massage. It usually adds an additional 10 minutes to the massage so that the stones are given adequate time to heat and relax the muscles.
Cold stone placement is similar to hot stone placement but the cooling effect of the stones is targeted to help reduce swelling of the soft tissue. The temperature is very comfortable for the patient and is performed to the patient's comfort level.
---
* Hot/Cold Stone Placement can be added to any 60 or 90 minute massage-simply request this service when scheduling.
* Any of these services are available for 60 or 90 minutes.
* We also offer couples massages in the same room.
* Not finding what you are looking for? Simply call and ask! We would be happy to assist you with additional requests.